Published on Thursday, February 13, 2020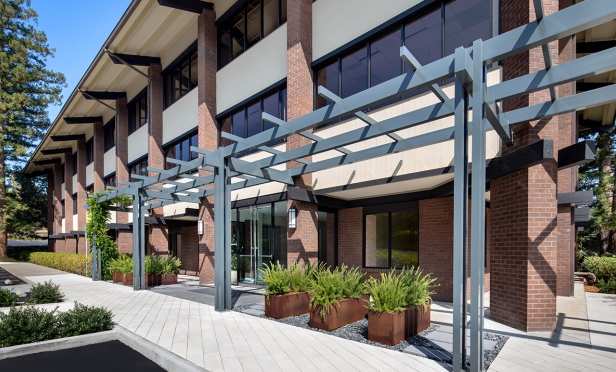 With high barriers to entry due to Stanford University's land holdings and the lack of readily available land for office development, the Sand Hill Road submarket has become an enclave for tenants.%>
MENLO PARK, CA—In the near future, more Bay Area companies will select locations that support the health and well-being of employees. And, as mobility trends move more toward autonomous transportation, Sand Hill Road's location, amenities and attributes will fit those requirements, according to DivcoWest.

With that mindset, DivcoWest has expanded its portfolio on Sand Hill Road with the acquisition of two office campuses: 2700-2770 and 3000 Sand Hill Rd. Combined with DivcoWest's existing campus located at 2400-2498 Sand Hill Rd. (Quadrus), the company's Sand Hill Road ownership now encompasses 44% of the submarket, across 21 buildings on nearly 50 acres. The properties are owned fee simple, while much of the submarket is encumbered by long-term ground leases.

Both new holdings were acquired from the Ford Land Co., which owned and operated the campuses since original development. Located approximately one mile from Stanford University's campus, DivcoWest's portfolio on Sand Hill Road is home to venture capital companies and innovators with access to Interstate 280, the Rosewood Sand Hill, proximity to nearby executive housing including Atherton and Woodside, and access to hiking trails and preserves.

With high barriers to entry due to Stanford University's extensive land holdings in the surrounding area as well as a lack of readily available land for office development, the Sand Hill Road submarket has become an enclave for tenants. This site is centrally located at the midpoint between San Jose and San Francisco and two respective international airports.

"Properties on Sand Hill Road are highly coveted and rarely trade. We were fortunate to be able to acquire Quadrus in 2011 and the addition of these landmark campuses provides us with significant scale in one of the most attractive innovation-centric submarkets in the world," said Sam Hamilton, co-head of acquisitions at DivcoWest.

DivcoWest will soon introduce plans to improve the properties' offerings for health, wellness and community, in addition to other amenities in line with Sand Hill Road tenants.

"Sand Hill's appeal continues to this day because it provides a dynamic corporate location surrounded by extensive natural surroundings. More and more, we hear from tenants that with today's digital distractions, it's not enough to have an office, you have to provide your employees with an environment and space to focus, reflect and innovate," said Gregg Walker, DivcoWest's head of business development.

As a firm, DivcoWest focuses on acquiring and improving commercial assets in strong innovation markets. It has major holdings in the Bay Area, Austin, Boston, New York City, Seattle and Washington, DC. In the Bay Area, DivcoWest is currently completing the renovation of a three building 318,000-square-foot campus at North First Street and Tasman Drive in San Jose, which is largely long-term leased to ASML. The company owns buildings in San Francisco's East Cut and SOMA submarkets as well as throughout the greater Bay Area.

Eastdil Secured represented the seller and procured transaction financing. DivcoWest has engaged Newmark Knight Frank's leasing team of Christian Prelle, Brad Van Linge, Clay Jones and Sarah Bohannon to lease its collective Sand Hill campuses.

"Sand Hill Road has a long tradition as a significant symbol of private equity and the venture capitalism industry," lead leasing rep Prelle tells GlobeSt.com. "Nearly every leading-edge company driving the tech sector has been the beneficiary of funding from firms on Sand Hill Road. DivcoWest's reputation as a strong partner with these firms means that these properties will continue to play an important part in the Bay Area's innovation ecosystem long into the future."

The North Peninsula's average asking rate in fourth quarter was $5.41 per-square-foot full service, up from $5.32 per-square-foot in the prior quarter, according to an office report by Newmark Knight Frank. Overall availability was recorded at 9.1% in fourth quarter, down from 9.4% in the previous quarter. On the sublease front, availability accounted for 2.4% of the total inventory and 26.7% of the total availability. By comparison in the previous quarter, sublease space accounted for 2.8% of the total inventory and 28.4% of the total availability. Tenant demand decreased 21.6% in fourth quarter 2019 to 2.4 million square feet, with the bulk of the requirements now in the 20,000- to 49,999-square-foot range. The construction pipeline held approximately 3.6 million square feet awaiting completion in fourth quarter, with 898,505 square feet expected to be delivered this quarter, says the NKF report.