OAKLAND'S FORWARD THINKING LEADS TO BUSINESS HUB MONIKER%>
Published on Friday, February 14, 2020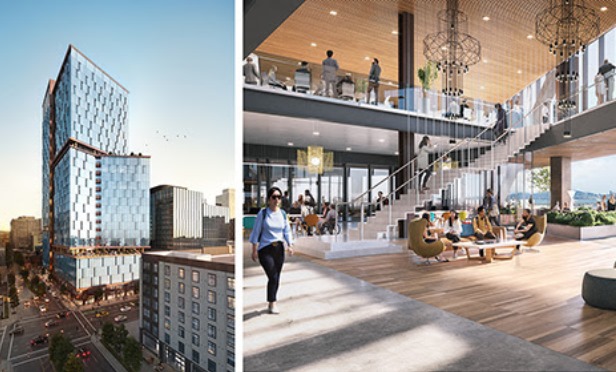 Telegraph Tower, developed by TMG Partners and endorsed by mayor Libby Schaaf as a key element of Uptown Oakland's development, provides 875,000 square feet of next generation office space.%>


OAKLAND, CA—Telegraph Tower, developed by TMG Partners and endorsed by mayor Libby Schaaf as a key element of Uptown Oakland's development, provides 875,000 square feet of next generation office space with large floorplates, high ceilings, the latest technology and building amenities. Solomon Cordwell Buenz is both the architect and interior designer on the development.

The architectural design of the 28-story tower located at 2201 Valley St. is straddled between Oakland's industrial past and the city's future as a growing business hub. Its angular image is framed by an industrial-inspired patinaed metal seam that runs throughout the building. Private roof terraces on the sixth, 18th and 28th floors provide west-facing views of the San Francisco Bay.

"Telegraph Tower represents a new design approach to urban office towers. We were really influenced by the uniqueness of Oakland as a place, from the varying scales of the existing urban fabric to the rich materiality of its industrial past, to the vibrancy of its amazing arts scene," said Chris Pemberton, president of Solomon Cordwell Buenz. "It was important to us to create a building that feels like a continuation of the city's story."

The interior floorplates of Telegraph Tower offer up to 37,000 square feet of office space with wide column-free spans and 11 ˝-foot-tall glass exposures.

Collaboration and wellness are key to the design. The building features a 10,000-square-foot fitness and wellness center, a community theater, street-level retail, a cafe and gallery space. A mind-blowing 33 balconies provide each level with outdoor space.

"Telegraph Tower leads the next generation of office buildings for Oakland with its emphasis on expansive open floorplates, some of the highest ceilings of any Bay Area office building and a large proportion of outdoor space," said Michael Covarrubias, chairman and CEO of TMG Partners. "We took every lesson we have learned about what companies want today and designed Telegraph Tower as a workplace environment that is entirely focused on delivering the right employee experience."

Ground-breaking for Telegraph Tower is slated for mid-2020.

"This office building is one of our bigger projects in Oakland, supported by huge trusses and located on the BART line," Strachan Forgan, principal of Solomon Cordwell Buenz, tells GlobeSt.com. "One of the most noteworthy parts of this design is that the lower level parking garage has the same exterior materials as the upper level office space in a shadow box design. But this puzzle parking can easily be removed if the need for parking is lessened in the future."

Puzzle parking systems utilize existing space in the best possible way. The automated parking systems are provided by a number of manufacturers, with Klaus Parking being one of the largest.

With its Parking Automats, one vacant space on the entry level allows for horizontal and vertical shifting of all platforms. At the press of a button, the system automatically moves the platforms into the desired position. An access/exit lane must be available on the middle level to comply with local regulations, GlobeSt.com learns.